Sergey Alekseevich Lebedev
Home → Hall of Fame → Sergey Alekseevich Lebedev
Pioneer of the Soviet Computing
Alexander Nitusov
Sergey Alexeevich Lebedev was born on the 2 nd of November 1902 in town of Nizhni Novgorod (on Middle Volga). Both his parents were teachers. The mother Anastasia Mavrina (Lebedeva) came from an old, rich and noble family. However she left it at the young age to be a teacher at a school for poor children. That was not an exception. It was the time of liberalisation; the period of revolutions was nearing, so some more progressive and intellectual young people from the Russian upper classes changed their life-style breaking with their aristocratic social traditions and turning to scientific careers, values of democracy and active personal participation in cultural development.
While teaching at school Anastasia met her future husband, Sergey's father, Alexey Lebedev, who was also a teacher. Oppositely to his wife's social origin his family was very simple and poor. As his father died when he was still little and the mother could not provide him any proper support Alexey visited special school for orphaned children of teachers. The school had been established by Ushinskiy a famous Russian teacher. That was a real piece of luck with learning, since Ushinsky was brilliant educationalist and organiser. Alexey demonstrated brilliant abilities himself and, after triumphant finishing the school, graduated from a pedagogical university; also with success. Teaching was the dream of his life. As a very energetic person Lebedev the father, was also engaged in public activity. Thus he wrote several popular books on contemporary political issues, which were printed in unbelievably big quantities.
Sergey Lebedev himself grew as quite common boy. He was fond of playing chess and swimming. He often crossed river Oka[1], which was not far from their house. Sergey also took interest in electricity and made himself a dynamo – machine, connecting it to the entrance bell in their house. The parents did all what they could to give their children good upbringing and education. House of the Lebedevs' was literally stuffed with books and the bookshelves were everywhere. Sergey learned much of poetry and recited it on each appropriate occasion. He also played piano very well and often made house concerts preferring music of Beethoven and Grieg. Many years after his sister Tatyana (Mavrina)[2] often remembered that, "the threads of our childhood stretched through all our life, touching everything good we could do".
Soon after the October Socialist Revolution (1917), when Sergey was already 15, the father received an appointment to a small town of Sarapul[3], West off the Urals. That was a place with magnificent mountain landscapes, very cold winter, "hungry market" (not unusual for the civil war time) and an impressive collection of historic and art journals in the local library. After about half year the father again received new appointment, that time in Moscow . He moved together with Sergey leaving the wife with two daughters in Sarapul, however, they also didn't stay there too long. The mother grew seriously ill and Sergey, alone, went there to bring her and the sisters to Moscow . After long and tiresome journey the family finally rejoined. The episode played notable role in his growing to confident and independent personality.
In Moscow Sergey Lebedev used every day of summer to prepare for entering exams at the N.E. Baumann Moscow Higher Technical School [4] (MHTS), which he eventually passed with success. A little later his elder sister entered Institute of Oriental History and the younger Tatyana (future artist) began study at the Academy of Arts.
S. Lebedev was a brilliant student. His interest to electrical science was rapidly growing and so were his scientific qualities. Although he was very serious in his work and did not like speaking too much, Sergey was never reserved or official. On the contrary, he was humorous and vivid. Soon he married an interesting and energetic young girl Alisa (Alice), an impressive personality herself, who always played important role in his life. The young couple found their first "independent" home in a room of student-historian Sigurd Schmidt (son of the famous Soviet mathematician and polar researcher Otto Schmidt), who himself lived in a flat-sharing community (same as the most Muscovites of those times).
Lebedev's teacher, prominent scientist professor Karl Adolfovich Krug[5], supervised his diploma project dedicated to researching of the power plants parallel work stability. In that time intensive increasing of electrical power production was the focus point of the USSR industrial development. As K.A. Krug himself was the scientific head of the state priority program on power production, researches of his students were naturally aimed at that issue and were of real scientific and practical value.
Lebedev graduated in 1928. Krug was very high opinion of his abilities and invited to remain at the MHTS as lecturer and at the same time offered him position of a scientific collaborator at the "V.I. Lenin All-Union Electrotechnical Institute" (AEI). That was one of the biggest and most modern technical research centres of the time. It had been created entirely by initiative and efforts of K.A. Krug. He managed to form there a constellation of experienced 'old professors' and the most promising young scientists.
Lebedev started his scientific career at AEI as a "Junior scientific collaborator". However, soon he headed a research team and a little later a research laboratory, "Laboratory of Electric Networks". In 1933 he published a monograph, "Stability of Parallel Operation of Electric Systems", together with his colleague A.S. Zhdanov. In 1935 Lebedev was awarded a professorship and in 1939 he submitted thesis of doctoral dissertation and received a degree, "Doctor of Technical Sciences", thus skipping preliminary degree, "Candidate of Technical Sciences" (PhD). His doctoral research resulted in creation of the theory of artificial stability of power producing and distributing systems. During 10 years Lebedev headed the Department of Automatics at the AEI. The Institute was the place where many of the future famous scientists began their careers. D.V. Svecharnik, A.G. Iosifyan, A.V. Mikhailov, A.V. Feldbaum, N.N. Sheremetyevskiy, I.S. Bruk[6] and many others were among them.
Lebedev was very attentive to his colleagues. In 1935-36 D.V. Svecharnik patented system of flexible feedback for automatic control of a hot rolling mill (11 years before it was repeated in the USA ). Lebedev, as chief of the automatics department, actively supported his project until it was tested at a still plant in Ukraine and implemented in new generation of machine tools. D.V. Svecharnik and his colleague D.I. Marynovskiy received awards – Lebedev received none, but was sincerely happy of their success. He was never interested in awards or glorification of any kind.
It is interesting to notice that Lebedev was vivid, energetic and quiet at the same time. Probably that combination of qualities made his work especially efficient and productive. He also managed to find some time for family matters, in summer he and Alisa went to the seaside, and for sport, as he was an addicted mountaineer until his last days. Lebedev and Svecharnik became friends and together rose up the mount Elbrus – the Europe 's highest summit (5.6 km). Lebehed was not tall but always "fit as a fiddle". Swecharnik remembered that, "the last 50 metres I was literally creeping on my knees and elbows but Lebedev was boldly skipping over rocks". He was 35 then. Lebedev was bold not only in mountainside. Thus, he never hesitated to help the collaborator who suffered some political oppression (in the 1930-40-s there was no shortage of them), or to find him position at his department [3].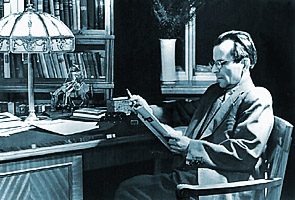 Sergey Alekseevich Lebedev
Already before the war Lebedev demonstrated interest in facilitated computations. That was only natural, as the "explosive" development of power production and related scientific researches and design projects brought demand in enormous amounts of calculations. The first electrical analogue machines for electric networks modelling[7] were created in the 1930-s. Lebedev was also interested in the work of his trainee Alexander Netushil, a student of the Moscow Power-Engineering Institute, who was doing his diploma practicum under Lebedev's supervision. Alexander Netushil studied an electronic counter for elementary particles intended for physical researches, and Lebedev persuaded him to continue work on the subject. As he mentioned later, it was clear (for him) that efficient mass-computations could be done only with electronic devices.
Netushil himself remembered, "My research eventually resulted in candidate dissertation (PhD) titled "Analysis of components for high-speed pulse counters", based on electronic triggers (flip-flops). It's well known that the triggers became the basic elements of digital computing machinery. From the very beginning of that work till my final submission of the dissertation thesis in 1939, S.A. Lebedev paid close attention to my research. He expressed his approval and agreed to be my opponent at its final presentation to the scientific council, what took place at the end of 1945 (already after the war). Yet, nobody suspected that Lebedev was already bearing ideas of digital electronic computers, which eventually made his name immortal".
Lebedev also experimented with binary arithmetic. After the war Alisa Grigorevna Lebedeva remembered that, "In 1941, during the German aviation bombing raids on Moscow, Sergey closed himself in a windowless bathroom with a candle and a copybook and hours long was writing 'ones and zeroes'". However at the end of 1941 the institute (AEI) was evacuated from Moscow to the Urals where its work was focused on urgent needs of the defence industry. At that period Lebedev designed a stabilising system for a tank gun, which permitted its precise aiming without lowering the tank's speed. The device increased efficiency of shooting and also saved lives of many tank men. Later he also designed a self-aiming warhead for an aircraft torpedo. At the end of the war, in 1945, Lebedev created the USSR first electronic analogue computer for solving systems of ordinary differential equations - a "common calculation tool" at the electrical power engineering.
According to the post-war governmental program of restoration and further development of the industry in the devastated parts of the country, many leading scientists and experts of Moscow were sent to the academies and leading institutes of the Ukraine and Byelorussia. In 1946 S.A. Lebedev was invited to the Ukrainian Academy of Sciences to be the director of the Institute of Energetics. That was also due to personal recommendation of the academician Mikhail Lavrentev. His accepting the invitation followed rather humorous story. As his wife Alisa was very reluctant to move with children to destroyed Kiev they finally solved the family dispute by tossing a coin. Later it was a popular joke among the friends that, "The coin fell on the lucky side (for the Ukrainian Academy)".
After a year the institute was divided into two new independent organisations and Lebedev became the director of the Institute of Electrotechnics at the Ukrainian Academy of Sciences. There he and his colleague L.V. Tsukernik performed researches on control over power supply systems, and also developed automatic devices increasing stability of the electric power systems. In 1950 S.A. Lebedev and L.V. Tsukernik were awarded the USSR State Premium.
Thus the post-war restoration, or rather "rebirth" of both the Ukrainian and the whole Soviet industry and science was in obvious progress. However, at the same time its success brought new demands. Intensive development of power engineering in civil area, as well as progress of nuclear physics researches and beginning rocket construction caused urgent need in precise large-scale facilitated computations. Some information already appeared about the first foreign electronic computing machines. Later, leading scientists of Kiev such as academician V.M. Glushkov or O.A. Bogomolets - the younger[8] and mathematician S.G. Krein (who was the first programmer for Lebedev), remembered that it was M.A. Lavrentyev who persuaded him to start practical work on electronic computers. Lavrentev himself learned about them from commercial advertising in some technical journals, which O.A. Bogomolets had brought from some of his trips to Switzerland [2], [3].
In the autumn 1948 Lebedev launched regular work on creation of the Small Electronic Computing Machine (MESM[9]). First of all the complete set of necessary mathematical operations to be performed by the computer should be defined. For that purpose Lebedev invited to Kiev leading Soviet experts, physicist A.A. Dorodnitsin[10] and mathematician K.A. Semendyaev.
In January-March 1949 S.A. Lebedev led special analytical seminar, where theoretical foundations of the future computer MESM were formed. Academicians M.A. Lavrentyev, B.V. Gnedenko, A.Y. Ishlinskiy, A.A. Kharkevich and also the collaborators of Lebedev's laboratory were its active participants. Lebedev's main assistants Ekaterina A. Shkabara and L.N. Dashevsky remembered that he started practical work with composing general block-structure of the MESM. It consisted of central arithmetic unit, memory unit, unit of control, input-output device and some peripheral punch cards and punch-tape devices for data preparation and reading (deciphering). Most of the design Lebedev performed himself being assisted by only few closest colleagues.
By the end of 1949, all design calculations were completed and the basic structure of the computer was defined. In 1950 MESM was assembled in a suburb of Kiev - Feofania (Theofania).
The history of "Feofania's period" alone could make a plot for a novel or memorial story. Creation of the first electronic digital computer was naturally a secret experimental work[11]. As most of the city was totally destructed by the war finding acceptable premises was not an easy task. Finally the "laboratory of S.A. Lebedev – academician of the AS Ukraine" was established on the territory of a former monastery (half destroyed) in Feofania. That was confirmed by the official decision of the Academy presidium from the 16 th of May 1947. Its official name was, "Laboratory of modelling and adjustment". After the Revolution of 1917 the monastery was closed and transformed into psychiatric clinic. With beginning of the war and German occupation, Nazis killed all its patients and turned it into military hospital. In 1944 during the battles for Kiev it was badly damaged, so Lebedev with his colleagues had to begin with repairing of the two-stored building where the first soviet computer would be created.
By the end of 1948 their team was enlarged and consisted of 12 engineers and scientists and 15 more technical assistants. When MESM was ready it had 6000 electron valves. For comparison, famous American ENIAC with its 18 000 electron valves, was designed by 13 leading specialists and assembled by 200 master-electricians and their numerous assistants. As Feofania was outside the city, every morning Lebedev and his staff were carried there by special bus. Although Feofania itself was a very beautiful place, with oak woods, thick carpet of flowers and many other features of surprisingly undisturbed nature the road there was horrible and the people in the bus felt themselves as if they were on a ship on stormy sea. Especially bad it was in autumn and spring. However the work should be always started at 9.00 and not a minute later, the regulations were strict. Working atmosphere at the laboratory was very enthusiastic and creative and spirit of the participants very high. That could be well illustrated by a fragment of an engineer's diary.
"Often, some late afternoon, when it was clear that organisational problems and other unexpected troubles again hamper planned work on MESM, Lebedev habitually commented, "If you don't object let's work quietly at my home for a couple of hours to-night". "We'll have dinner together, just call and warn your families". After the meal we passed to his study furnished with two drawing boards to continue the work. Lebedev distributed the tasks, normally that was a work for good 7 hours, that's until 3 in the morning. And the next day we should be at work not later than 9.00. By one or two at night all of us could hardly keep our eyes open. Having noticed it he sent us to sleep and himself stayed working until 3 or 4 a.m. The next evening everything repeated but nobody ever objected or complained".[3]
By November 1950 the "Model" was completed. In the technical report, which is kept at the Institute of Electrodynamics of the AS Ukraine, it was mentioned that, "the circumstances dictated very strict time limits". To expedite matters Lebedev utilised various electronic components that had been tested before in other technical appliances wherever possible. He also implemented some simplifications in computer design. However, unexpected difficulties always complicated the work. Thus assembled computer with its numerous valves and power sources heated the room so much that there was real danger of fire. The team had to again interrupt the work and disassemble the ceiling between the ground and first floors, for better cooling. Testing and adjustment - most complicated and responsible part of the work- bagan by the end of 1950.
Another diary reads: "Lebedev himself always worked until 2 or 3 at night and often forgot his meals. We smoked and ate in turns and he was only drinking very strong tea. We all left very late, when we could not stay on our legs. The night trips home were very tiresome so finally we all brought our families to Feofania".[3]
Anyway, the life there was not an exile; they even built several sport grounds by themselves and regularly went for walks through the woods to the nearest lake. During the walks they usually made free discussions of some current problems or other issues related to MESM or computers in general. Lebedev loved to suddenly surprise his colleagues with some unexpected ideas. Thus, once he remarked that universal computer is only good for large-scale computations but for calculations (often performed) of some specific kind a small 'special computer' would be more proper. Another time he suggested that input of information should be performed simultaneously with computations and operations on vectors and matrixes in arithmetic unit.
Lebedev "possessed" a favourite tree-stump near the laboratory where he loved to sit and think over some problem. He usually made notices in a copybook but more often on a cigarette-boxes.[4] Unfortunately he was a heavy smoker.
In spite of big hardships atmosphere was enthusiastic and nobody lost his spirits. Lebedev's wife Alisa always paid much attention to his work and provided very precious moral support. All his collaborators mentioned that they respected and loved her. Alisa was very strong personality with inexhaustible humour, she always managed to improve situation and remove tension with an appropriate joke or some comment like, "Before the war it was a lunatic asylum here and now again electrotechnical institute".
She also took care of cultural education for Lebedev's collaborators. For that purpose Alisa often organised parties in their flat, where world-famous musician (piano-player) Svyatoslav Richter, Ukrainian opera singer B. Gmyrya and many other popular persons were always invited. The Lebedevs were very democratic and friendly people and enjoyed the highest cultural standards.
Since 1949, when MESM was obtaining some "material forms", leading Moscow scientists began visiting Feofania. A.A. Lyapunov and M.R. Shura-Bura studied it for programming purposes, Y.Y. Basilevskiy[12] (SDB-245) and his colleagues were interested in its hardware.
By the end of 1951 MESM passed all tests and the special commission of the USSR Academy of Sciences, headed by academician M.V. Keldysh, adopted official recommendation for its regular operation. Academicians S.L. Sobolev[13], M.A. Lavrentyev[14] and professors K.A. Semendyaev and G.A. Kurosh were members of the commission.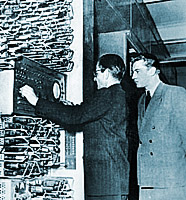 In 1952 MESM was in regular operation (one could say, "heavy duty mode"). It was engaged in solving of many scientific problems. Thus Y.B. Zeldovich[15] performed calculations on nuclear physical processes, M.V. Keldysh, A.A. Dorodnitsin and A.A. Lyapunov for rocket building and space flights, S.A. Lebedev himself used it for researches on the long-range electric power transmission lines, G.N. Slavin made calculations on mechanics, B.V. Gnedenko studied and improved statistical methods of quality control.
In 1950, when MESM was tested, only one comparable computer had been in operation. That was EDSAC created by Morris Wilkes in the Great Britain in 1949. However, oppositely to MESM, arithmetic device of the EDSAC was not parallel but a series one, what was less efficient. Most probably that was Lebedev's scientific experience, obtained from his numerous researches on parallelism in electric systems, that logically led him to the idea of parallel computations, which he successfully developed till the end of his life, and his followers continued it practically up to our time.
An important feature of the MESM consisted in independent creation of its basic architectural principles. They are generally famous as "John von Neumann principles":
Computer contains arithmetic-, memory-, control- and input-output units.
Computer program, written in computer codes, is stored in the same memory as the processed numbers (data).
Binary system is implemented for number and statement encoding.
Computations are performed automatically according to the stored program.
Logical computations are introduced and performed alongside with arithmetic operations.
Computer memory is composed on hierarchical principle.
Numerical mathematical methods are implemented for solving various given problems.
During the Cold War some attempts in the West were made to dispute Lebedev's priority. Claiming his inventions to be a result of copying the western prototypes they made hints, or directly "accused" him in connections with the Soviet secret services. He always replied that the available information on computers published in the western media was purely commercial and contained no technical details. He and his team had to invent everything by themselves, up to the smallest detail. Besides, the constant shortage of even the most necessary equipment sometimes forced them to work literally on "do-it-yourself" principle. Such conditions made impossible any serious copying even if the prototype were staying in front of them. I.M. Lisovskiy – one of his engineers later remembered that, 'we learned about principles of J. von Neumann already in the 1950-s, when the first publications were published' [4].
There was one more reason to prove that their work was not a copy. That was beginning of computer production in the USSR and it was not yet considered (by officials) to be anything important. In fact, Lebedev's work remained little noticed by the higher administration until 1950, when Lavrentev applied directly to Stalin. Such "status" naturally made the inventors ineligible for receiving serious information from the secret services, even if they possessed any.
When the completed MESM was already in operation, the work on another computer – "Special Electronic Computation Machine (SESM [16])" was started in Kiev . Basic ideas of new computer and plans of its design were proposed by Lebedev, but many details of design and assembling works were performed by his Kiev assistant Z.L. Rabinovich with colleagues. SESM - relatively small machine - was solving systems of algebraic and differential equations. Lebedev did not participat in practical work because then he was already working in Moscow on his another computer - BESM. However, he 'monitored' the project and provided necessary consultations until the work was finished. Following efficient operation of the SESM could be also estimated as the "success of Z.L. Rabinovich".
In 1949 it was clear that, in spite of the enthusiastic and successful work of Lebedev and all his colleagues on MESM, general progress of computing (at least in Kiev) remained rather slow [3]. Lavrentev grew worried with the situation and made a bold move, he wrote a personal letter to I.V. Stalin displaying advantages of electronic computers and reasoning necessity of their accelerated implementation in large-scale computations for defence projects, scientific researches, etc. Although he mainly hoped to receive some governmental assistance for the work in Kiev result was surprising – Lavrentev himself was immediately appointed the director of Moscow Institute of Precession Mechanics and Computer Engineering (IPMaCE or ITMiVT[17]) [3]. The institute was established two years before, in 1947, to be a modern scientific and engineering centre for research and development of the Soviet computer production but results of its work were not satisfactory. As many of its leading scientists belonged to the "older generation" mainly concerned with mechanical calculating machinery, the electronic computers still were not the mainstream of the institute research. On his coming into directorial position Lavrentev, who was a pure mathematician, invited S.A. Lebedev to lead the institute's project on electronic computers.
In March 1950 Lebedev accepted the invitation and resettled to Moscow to head a laboratory at the IPMaCE. Later his colleagues remembered that he came there with practically ready design of new computer - BESM[18]. The work with the BESM he stared immediately on arrival.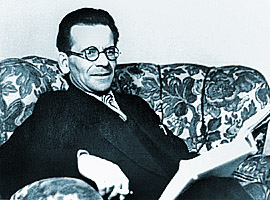 Lebedev quickly distributed work among new colleagues. Thus design of arithmetic device for performed by P.P. Golovistikov and the control device to K.S. Neslukhovskiy. Also several trainees were engaged in the project. They were students of some technical universities, primarily of the Moscow Power-Engineering Institute[19]. Their working tasks – live - modelling and description of some BESM devices, were at the same time the subjects of their own diploma projects . Such "arrangement" of work was typical for Lebedev, who always composed his team of a few experienced assistants-designers and a large group of very young scientists, fully relying on high qualification of the former and enthusiasm, inventiveness and initiative of the latter ones.
Some of the young trainees became his life-long assistants and supporters. Later many of them made famous scientists and designers themselves. However, then the future academicians V.S. Burtsev[20] and V.A. Melnikov[21] together with A.G. Laut, I.D. Vizun, A.S. Fedorov and L.A. Orlov were dutifully "manipulating with soldering irons", assembling various devices for the BESM. Lebedev himself paid special attention to Burtsev noticing not only his obvious talents but also the fact that he lost both his parents during the war and had to live entirely on his own. Later Burtsev - one of S.A. Lebedev's most true followers, often mentioned that his teacher always helped him, not only in scientific problems but also in common matters, somehow "like an adopted father".
In April 1951 the special State Examination (expert) Commission on computers, headed by academician M.V. Keldysh, approved draft projects of computers BESM and Strela. The latter was designed in parallel at the Special Design Bureau - 245. By the first quarter of 1953 BESM was fully assembled and adjusted and in April 1953 the State Commission issued official permission for its regular operation.
Although BESM, as one of the few available electronic computers, was immediately put in "heavy duty usage" its effective performance was much lower than planned until 1956, when it was modernised. Main reason of that consisted in shortage of potentialoscopes. According to Lebedev's design those should be the basic components of its memory device. However, they were provided only for STRELA, which, being assembled for needs of defence, had higher priority status. The BESM was considered as primarily scientific computer. Lebedev substituted missing potentialoscopes with acoustic mercury tubes, that were easier to obtain but the speed of computer dropped several times lover then planned. According to Lebedev's project calculations, which were quite realistic, BESM could be the quickest computer in the world for some time. Anyway, in 1956, the State Commission repeated its examination procedure and BESM finally equipped with full set of potentialoscopes reached its planned performance rate, thus confirming all Lebedev's predictions.
Of course, in 1956 it was already not the quickest computer but in the same year S.A. Lebedev made a report on BESM at international conference in Darmstadt and it caused a sort of sensation. It was the first time when the European scientific society actually heard anything about electronic computers in the USSR and it was -still- the quickest computer in Europe .
In 1955 Lebedev launched another project. As the necessary components for BESM were still not available at that time, he began work on new computer M-20. Number 20 indicated expected performance - 20 thousand op/sec. Again it was to be the world's quickest one, among the contemporary analogues. By the governmental decision the work was trusted to two organisations: Lebedev's ITMiVT and SDB-245. Lebedev was appointed designer-in-chief of the project and M.K. Sulim of DSB-245, was his deputy. Lebedev created ideology[22] and structural design of the computer. M.K. Sulim with his group prepared necessary technical documentation and organised manufacturing of the first experimental computer at the SDB-245. P.P. Golovistikov designed its circuitry and M.R. Shura-Bura[23] created its instruction set. The latter also introduced many new logical operations and procedures of address modification. Significant increase of performance was obtained by implementation of special circuit, made in arithmetic unit for the "rough carry", which backed up the through carry. The new system enabled direct shifting for 1, 2 or 4 decimal places, what resulted in significant acceleration of addition (and subtraction) operations. Those improvements were also convenient for they didn't need additional valves but only diodes, which were already little semiconductor germanium ones at that time. Experimental model of M-20 was assembled in 1957. Quite unexpectedly its operation was unsatisfactory. New dynamic components, good in single experimental units, needed essential improvements being assembled into big installation.
Lebedev decided not to loose time and simultaneously made improvements on BESM, mounting in it the most advanced components of M-20. Thus he used new electronic micro-valves with better characteristics and replaced valve-diodes with high-voltage germanium diodes without changing circuitry. The potentialoscopes were also replaced with progressive ferrite-core memory of M-20, with capacity of 2048 words (in fact, only half of M-20).
As the BESM was really good machine it was eventually put into serial production at the Volodarskiy machine-constructing plant in Ulyanovsk (on Volga ), as universal (civil) digital computer named BESM-2.
Meanwhile P. Golovistikov, V. Laut and A. Sokolov improved components of M-20. Number of its electron valves finally totalled 1600. Notably, they worked under low load – that was advantage of the pulse principle of circuitry composition. All that made reliability of M-20 very high and it was really the quickest one. Its logical circuitry was based on diodes. Average performance reached 20000 (three-address) ops (the expected one). Number of decimal places in numbers and statements reached 45 (in BESM - 39). It had ferrite core RAM for 2048 words, but it could be increased two times. Three magnetic drums (4016 words each) formed its ROM. There were also 4 ten-track magnetic tapes with total capacity of more than 300000 words. Punched cards were used for data input.
Lebedev implemented in M-20 automatic address modification, combining of arithmetic device operation with command retrieval from memory, implementation of buffer memory for data arrays storing for their printing-out, combining of the data input – output with computing and utilisation of completely synchronous signal transmission in logical circuits. That was the first time in the Soviet practice. The innovations notably increased performance. For comparison, the quickest foreign computer of the time had 8000 valves; its performance equalled 15000 ops.
In 1958 the State Examination (expert) Commission officially approved the computer and recommended it for serial production. Official conclusion of the commission, among others, contained the evaluation, "the world's highest performance".
Mathematicians, led by M.R. Shura-Bura, produced progressive software and M-20 became very convenient for programming. Soon after beginning of serial production its users formed popular, volunteer – non-official, organisation, "Association of M-20 users". That was the first Soviet public organisation of such kind.
By that time Lebedev had already been the director of ITMiVT (IPMaCE) about five years. Academician M.A. Lavrentev the institute's director, appointed in 1950, didn't remain long in that position. In 1953 he was elected the vice-president of the AS USSR and recommended Lebedev as his successor. Also in 1953 Lebedev was elected a full member of the AS USSR. By remarkable co-incidence he was greeted at the official ceremony by famous mathematician and polar researcher, academician Otto Schmidt (the father of their first "landlord" Sigurd Schmidt), who mentioned, "today we greet two new academicians – two prominent persons S.A. lebedev and A.P. Sakharov".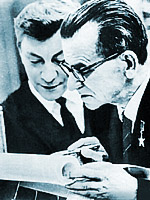 Later, some semiconductor variants of M-20 were produced, the architecture, however, remained unchanged. Those were M-220 and M-222 (M.K. Sulim was their chief designer).
The following period was spent in preparations for creation of the "jewel of Lebedev's engineering" – world-famous computer BESM- 6. In 1964 the first semiconductor-based components for the computer's basic units were supplied. Younger engineers of the team quickly assembled them. As the modified units demonstrated good operational characteristics and rather high reliability (and the main work on the BESM-6 was not yet started), the engineers under O.P. Vasilev assembled them into a small computer, which they called BESM-3M. Then the enthusiasts developed the idea and devised their own variant of M-20, repeating its basic logical principles and general structure but with modern semiconductor components. That was BESM-4.
Lebedev himself was amused with those "exercises" of his "youngsters". Academician A. Dorodnitsin in his turn arranged an expert session of the State Examination Commission, which highly appreciated BESM-4. That was the first soviet semiconductor computer. Within a short it became very popular among users, since it was small, reliable and inexpensive.
When BESM-2 and M-20 were completed, ITMiVT started design of the semiconductor BESM-6 with performance of 1 million op/sec. The work was led by S.A. Lebedev himself. His former student V.A. Melnikov[24] and L.N. Korolev[25] were his deputies.
BESM-6 was provided with complete set of software. It was result of collective efforts of numerous programmers. One of Lebedev's younger assistants –now professor- A.N. Tomilin[26] was active creator of its operating system and also took part in development of its hardware. BESM-6 was officially examined and approved by the State Commission and recommended for serial commercial production in 1967. That time M.V. Keldysh - the president of the AS USSR, was its chairman.
On Lebedev's initiative and with his active participation, entire future computer was first presented as mathematical model, which was programmed on BESM-2. Lebedev himself made full mathematical description composing mathematical model of BESM-6. All its units were presented as functions and systems of equations. Probably that was the first time when a computer was presented "in its own media". BESM-6 was very popular and soon after it became the basic computer for computing centres of collective access, specially created at some scientific organisations. Special systems for automation of scientific researches in nuclear physics and other fields of science, as well as real time systems for computations and information processing were also facilitated with that computer. BESM-6 was intensively utilised for modelling of complicated processes in physics and also for purposes of control. It was equally popular as basic tool for software development for new computers.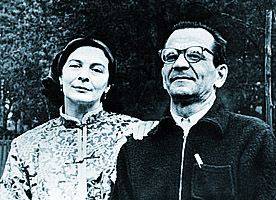 BESM-6 was produced by Moscow computer plant SAM during more than 17 years. Its designers S.A. Lebedev, V.A. Melnikov, L.N. Korolev, L.A. Zak, V.N. Laut, V.I. Smirnov, A.A. Sokolov, A.N. Tomilin, M.V. Tyapkin (from ITMiVT) and V.A. Ivanov, V.Y. Semeshkin (from SAM) were awarded the "State Premium".
When BESM-6 was already in serial production ITMiVT and the plant SAM jointly produced new computation system AS-6 on its basis. Modular organisation of its structure together with unified exchange channels created possibility of assembling decentralised multi-machine computation complexes. AS-6 was provided with efficient compilers for high-level programming languages, multi-layer memory protection system based on status stake mechanisms. Decentralised operating system of AS-6 maintained operation in batch processing mode, remote batch processing, time-sharing and also real time mode. AS-6 was utilised for data processing and control it the systems maintaining space experiments and researches and also in some computing centres of big scientific-research organisations.
Lebedev designed not only numerous universal computers, which were used both for civil and special (defense) needs, but a number of purely military systems. His special machines for anti-rocket defense formed significant part of technical basis for strategic parity between the USSR and USA during the cold war. Thus, in 1952-1955, he and V.S. Burtsev designed special electronic computers "Diana-1" and "Diana-2" for automatic data retrieval from radio-locator and for automatic tracing flying targets. Lebedev trusted talents of his young assistant.
The world's first computer network also was designed by Burtsev, under Lebedev's scientific guidance. That was multiprocessor -local- network-structure with remote control terminal connected by cable lines with remote radar stations and launching installations for anti-rockets. Distance between various parts of the net exceeded 200 km . The basic idea of the structure logically arose from the simple reason of increasing reliability of the whole system. As the main processor units were based on unreliable electron valves, numerous malfunctions often happened before the running program could be completed by the system, what was absolutely unacceptable in defence systems (V.S. Burtsev). The initial idea was very simple - not one but several processors should be connected (by cables) for their parallel operation and backing-up. The whole project (construction of anti-rocket defence system) was led by general G.V. Kisunko, himself an enthusiastic organiser and experienced engineer . Powerful computers M-40 (40000 ops) and M-50 (50000 ops with floating point) - special development of Lebedev's M-20 were designed and implemented by Burtsev in 1958. The whole system was successfully mounted and tested in Kazakhstan in 1962-63. A testing ballistic rocket with "nuclear warhead" (model) was destroyed by the conventional rocket with the first shot. The monitor screen of M-40 at control board displayed message, "Target destroyed". Its ability of stable efficient interception and destruction of ballistic missiles forced USA to seek compromises with the USSR, what resulted in the treaty on nuclear arms limitation ratified in 1972 [3]. S.A. Lebedev, G.V. Kisunko (then 35) and V. S. Burtsev (also 35) were awarded the "Lenin Premium".
In spite of the obvious success of Lebedev's scientific school and of scientific computing in general, Soviet computing in national economy experienced certain difficulties already by the beginning of the 1970. Most of numerous models, produced by many computers centres, plants etc. were incompatible and the lack of unified applied software which could be utilised by common users (not scientific) caused rapidly growing lagging behind the average level of American computing. In the end of 1960-s the government adopted new large-scale project. That was the international program ( USSR and the Socialist countries) of joint research, development and production of new series of unified compatible computers - named ES (or "RYAD"). The unprecedented project itself was very interesting, however, it took for prototype not a Soviet machine but the popular American IBM-360, which had began commercial mass production of standardised user software. The official reason was, "to start production of own computers compatible with IBM on programming level" and, "thus to get access to world software market". In reality it led to cutting of many national projects and copying of many IBM architectural features. Lebedev and his colleague considered that as a serious blow on development of national computer science. His health also began displaying symptoms of deteriorating – he had increasing problems with his heart. Nevertheless Lebedev's own scientific school proved to be too solid and fundamental to be "set aside". It kept on working in the 1970-s and -80-s and -luckily- it exists in our time too.
Lebedev always insisted on development of structures for parallel computation and intensifying researches on parallelism in computations. He also predicted important role of super-computers with high performance. His own series of those machines was named ELBRUS, after the Europe highest summit (in Caucasus).
Unfortunately he himself has never seen them. S.A. Lebedev died on the 3 of July 1974 in Moscow . Both he and his wife Alice are buried on the city's central cemetery (reserved for prominent persons only). Computer series ELBRUS (multi-processor computing complexes Elbrus, Elbrus-2, Elbrus-3) was developed by his followers Burtsev, Sokolov and many others.
S.A. Lebedev is equally famous for creation and development of scientific school of the highest level. His former students and assistants in their turn created their own schools. At present ITMiVT is bearing his name.
In 1996 Lebedev was, posthumously, awarded Charles Babbage medal "Computer Pioneer". The inscription on it reads, "IEEE Computer Society recognizes Sergey Alekseevich Lebedev. Founded Soviet Computer Industry. Awarded 1996" .
Notes
1. About half kilometre. Oka is one of the largest tributaries of Volga; in size (approx. 1450 km) it is practically equal to Rhine of Central Europe (1340 km).
2. Tatyana Alekseevna Mavrina-Lebedeva (1902-1996), famous Soviet artist. Her illustrations for children books were especially popular.
3. Sarapul - notable economic centre in Republic Udmurtia (Russian Federation, western side of the Urals) on river Kama, main left tributary of Volga . Distance from Moscow - 1250 km Eastward.
4. At present named, "Moscow State Technical University", (MSTU).
5. More on Karl Adolfovich Krug and the MSTU in his biography: www.computer-museum.ru
6. Academician Isaak Semenovich Bruk, see in: www.computer-museum.ru
7. More on the first analogue machines made for researches on power production, see also in biography of Isaak Semenovich Bruk: www.computer-museum.ru
8. A s on of academician A.A. Bogomolets - the president of the Academy of Sciences Ukraine.
9. According to B.N. Malinovskiy and some other evidences, abbreviation MESM initially came from (Russian) name "Model' Elektronnoy Schetnoy Mashiny" (Model of Electronic Calculating Machine). Lebedev himself considered it as operating research model for further development. However, shortage of financing, as well as not yet established positions of computer engineering in general, forced the authors to replace "uncertain" definition "Model" with more concrete (for administration) "Malaya/Small". The "diplomatic trick" also permitted not to change original official letters and other documents as the computer –abridged- name didn't change. Thus the MESM remained in the history as the "Small Electronic Calculating Machine".
10. A.A. Dorodnitsin biography: www.computer-museum.ru
11. Arguing for beginning of the works on computer Lavrentev mentioned solving the scientific problem of "mathematical modeling of cumulative explosion", as one of the reasons for immediate start. That task alone would be enough to make the whole enterprise a secret one.
12. Yuri yakovlevich Basilevskiy, biography: www.computer-museum.ru
13. Sergey Lvovich Sobolev, biography: www-history.mcs.st-and.ac.uk
14. Mikhail Alexeevich Lavrentev, biography: www.computer-museum.ru, also in: www-history.mcs.st-and.ac.uk
15. Academician Y.B. Zeldovich - one of the Soviet nuclear physics researchers who discovered the controllable nuclear chain reaction already before the war.
16. SESM – abbreviation from Spetsial'naya Elektronnaya Schetnaya Mashina (Russ.)
17. Its original Russian name reads ITMiVT (Institut Tochnoi Mekhaniki i Vychislitel'noi Tekhniki); the institute itself obtained the fame of the "legendary" leading scientific centre of the Soviet computer development (at least in civil field).
18. BESM – Bystrodeistvuyushchaya Elektronnaya Schetnaia Mashina (Russ.): "Quick(operating) Electronic Calculating Machine". Its full official name was, "BESM of the Academy of Sciences USSR ".
19. Moscow Power-Engineering Institute – MPEI (Russ. - MEI) one of the biggest Soviet/Russian technical universities, which "nurtured" many famous Soviet computer scientists. MPEI was created (established and also entirely built) by academician Karl Adolfovich Krug in 1932. For more details see also: www.computer-museum.ru
20. Vsevolod Sergeevich Burtsev,: www.computer-museum.ru
21. Vladimir Andreevich Melnikov: www.computer-museum.ru
22. The notion "Ideology" in technical context is traditional for Russia , where it means a complex of design ideas, principles of functioning and, so to say, general philosophy of the created device (computer, in our case). However it might be also classified as "engineer slang".
23. Mikhail Romanovich Shura-Bura: www.computer-museum.ru
24. Vladimir Andreevich Melnikov: www.computer-museum.ru
25. Lev Nikolaevich Korolev: www.computer-museum.ru
26. Alexander Nikolaevich Tomilin see in: www.computer-museum.ru
Sourses:
Biography of S.A. Lebedev in "Virtual Computer Museum": www.computer-museum.ru
G.Trogemann, A.Y. Nitussov, W. Ernst (Eds.) "Computing in Russia" VIEVEG (Bertelsmann, Springer), Wiesbaden, 2001. – 350 p.
B.N. Malinovskiy. "History of Computing in Persons" . Kiev, KIT, 1994.
"S.A. Lebedev – Creator of Soviet Electronic Computers", collection of essays by collaborators of S.A. Lebedev Institute of Precision Mechanics and Computer Engineering (ITMiVT). Edited by academician of AS Russia G.G. Ryabov. Published by ITMiVT.